News: SPINHouse Live Hosts Secret Show
Posted by woj on
Saturday, December 12, 2009
|
Touring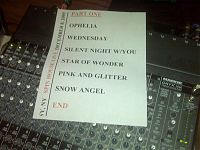 This past Tuesday night — as I was last updating the site in fact — Tori was playing an unadvertised , invitation-only set for a hundred or so people at the office of SPIN Magazine as part of their SPINHouse Live series. The six-song set included, as the photo of the setlist shows, "Ophelia," "Wednesday," "A Silent Night With You," "Star of Wonder," "Pink and Glitter" and "Snow Angel."
SPIN reviewed the event the following morning and their article includes some excellent photographs, courtesy of Kathryn Yu and Ben Rowland, of Tori at the piano.
OUT's Popnography and Gothamist also covered the performance, with the latter adding video clips of "Pink & Glitter" and "Ophelia" as well.
Finally, a few short twitvids have also surfaced: clips of "A Silent Night With You" and "Snow Angel," courtesy of @rbrockington and @flatbushctylmts respectively.
Thanks to Mark-Alexis, Lucie_S, Jeremy Mitchell, Josh and fourseraphs for sending in links for this story!