News: Here Lies Love Release Announced
Posted by woj on
Tuesday, December 15, 2009
|
Cherries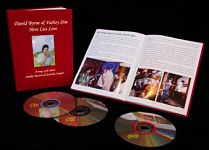 After much waiting and anticipation, Todomundo / Nonesuch Records have announced that the David Byrne / Fat Boy Slim collaboration Here Lies Love, on which Tori provides guest vocals, will be released on February 23rd!
For those who may have forgotten or did not know of this project, it is a song cycle that deals with the life of the Philippines' former first lady Imelda Marcos, with an eye to her relationship to Estrella Cumpas, the woman who raised her.
The release will include the 22-track double-album, a DVD and a 100-page book detailing the project — from its original Carnegie Hall stage production in 2007 to the recorded form arriving next year.
The original stage release featured the vocals of Dana Diaz-Tutaan and Ganda Suthivarakom but on the album release, Byrne opted to enlist the aid of several guest vocalists. Tori sings on two songs: "You'll Be Taken Care Of" and, along with Cyndi Lauper, "Why Don't You Love Me?" The full track list, with each song's vocalist, can be found at Nonesuch.com.
Look for more details from Nonesuch in January.
Thanks to Imagoro for being the first to let us know that these details had been announced.