News: A UK Show Pops Up on Ticketmaster...Prematurely
Posted by woj on
Wednesday, May 12, 2010
|
Touring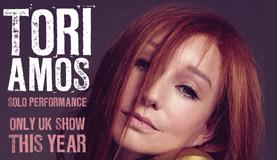 Update: ToriAmos.com has confirmed that this show is taking place. Tickets will be available through Ticketmaster with a pre-sale via Ticketmaster on Saturday, May 15th at 9:00 AM BST and the general sale starting on Tuesday, May 18th at 9:00 AM BST. And, as you can see from the image on the Ticketmaster page, this show — and presumably the others in Europe — will be solo performances.
Update: And the listing has been removed…it was there though! A few folks contacted the Apollo Victoria and were told that the show is expected to be confirmed next week, though @NicotineLove was told that tickets could go on sale tomorrow. Given the conflicting information, we're just going to sit tight and keep our eyes on Ticketmaster…
Ticketmaster has added a listing for a show at London's Apollo Victoria Theatre, snugly scheduled between the Dublin and Dutch shows on Sunday, July 18th at 7:30 PM.
Tickets are slated to go on sale to the general public on Tuesday, May 18th at 9:00 AM, with a "fan club" presale starting on Saturday, May 15th at 9:00 AM. No, we're not sure what that means either as there is no fan club…but one assumes that details will be forthcoming shortly.
Thanks to @NicotineLove for the eagle eyes!