News: More Details From The Artists Den
Posted by woj on
Monday, June 07, 2010
|
TV/Radio/Web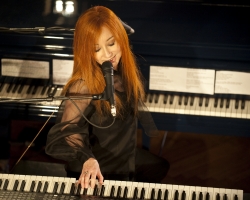 If one takes a quick tour around the website for WLIW, one of the co-producers of Live at the Artists Den, one will find a number of interesting items on their press page for the show. In addition to a couple of very high-quality (and large) promotional photos from the performance, there is also a program description that includes the songs to be included in the episode. Alas, a few songs were cut from the performance to fit into one hour. Hopefully, though, they will be included on the commercial release of the program.
The description is a PDF so we've included its text — behind the cut for those who want to remain surprised by the broadcast.
Thanks to BMac for the tip!

---
Live from the Artists Den #202 "Tori Amos"
Recorded December 9, 2009, Park Avenue Armory, New York, NY
Tori Amos is one of the most influential and respected artists of the modern era. The double-digit Grammy nominee has recorded 11 acclaimed studio albums (and gone platinum nearly 20 times) since emerging in the early '90s. She released two new CDs in 2009: Abnormally Attracted to Sin and her first seasonal project, Midwinter Graces.
The Veterans Room of New York City's Park Avenue Armory set the stage for a private concert by Tori Amos for 100 lucky fans. Described as "Greek, Moresque, and Celtic with a dash of the Egyptian, the Persian, and the Japanese," the room provided a fitting setting for one of the most eclectic and culturally curious artists in music today. Amos performed a career-spanning set featuring classics from her debut Little Earthquakes through to Abnormally Attracted to Sin.
Song List
"Ruby Through The Looking Glass"
"China"
"Lust"
"Concertina"
"Virginia"
"Black Dove"
"Girl"
"Bells for Her"
"Maybe California"
"Toast"
60 minutes. ST and CC. Available in HD (16:9 Anamorphic Widescreen) and SD (Letterbox).
Rating: TV-PG.