News: Live From The Artists Den DVD Details
Posted by woj on
Thursday, June 10, 2010
|
Releases
Update: Mere minutes after we finished this article, the DVD release details were posted to ToriAmos.com and Everything Tori, along with the pre-order link to Barnes & Noble! Shazam! (Now if we could only get some information about that fabled American Doll Posse tour DVD!)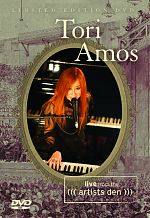 Several music and entertainment news sites including Altsounds, Lena Lamoray and The Music Slut are now reporting details about the upcoming Tori Amos: Live from the Artists Den DVD release.
According to what appears to be a press release from The Artists Den, the limited edition DVD will be released on July 13th, the same week the episode premieres on public television, with an exclusive pre-order through Barnes & Noble. It's not clear if Barnes & Noble will be the exclusive retailer for the DVD or not. Other Artists Den releases are available elsewhere so we'd guess that would eventually be the case for this DVD as well but we will have to wait and see.
The release will include all 12 songs performed at the taping (not just the 10 in the broadcast) and also feature an interview conducted by noted music journalist and critic Alan Light, a tour of the Park Avenue Armory's Veterans Room lead by Tor and the directory of the Armoryi, a hardbound scrapbook featuring behind-the-scenes photos of the event and a history of the venue, and a print of a hand-written postcard by Tori.
As the text of the Lena Lamoray and Altsounds articles is identical, it would seem that their source is a sneak preview press release about the DVD so we would expect an official announcement about this on The Artists Den website and Barnes & Noble to appear soon.
Thanks to six58, Eliot and Armen for the tips!
Update: According to The Artists Den (and despite the claim of Barnes & Noble to the contrary), this DVD is region-free (Region 0) so it will be playable on any DVD player that supports NTSC. Thanks to elasia for doing the legwork to find that out!