News: I Can't Think of a Pun For Bonnaroo. Can You?
Posted by woj on
Saturday, June 12, 2010
|
Touring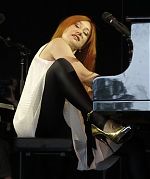 Tori's set at Bonnaroo is, as they say, in the bag and, with thanks to the kindly @KaranRulec and the festival's webcast via YouTube, we've got the set for the full show posted in Tour.
The performance featured "Smells Like Teen Spirit," "Secret Spell" (leavened with lyrics from "Turn! Turn! Turn!", a collaboration between Pete Seeger and the Book of Ecclesiastes made famous by The Byrds), "Upside Down" (dedicated to Mother Earth in response to the oil spill in the Gulf of Mexico), "Space Dog" (which included an off-the-cuff explanation for Neil's absence) and "Love Song."
As always, we'd love to hear what people in attendance thought of the show. If you were there, please feel free to post a review of the performance using the comment form on the Bonnaroo concert page.