News: Songs Of Love For Japan
Posted by woj on
Monday, April 18, 2011
|
Cherries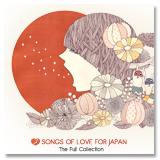 Tori has donated "500 Miles" to Songs of Love for Japan, a compilation benefiting ShelterBox, an organization that is on the ground providing relief to the victims of the disastrous earthquake and tsunami that affected northeast Japan in March.
The cornerstone of the fundraiser is a 100-track compilation of music donated by 100 artists with many of the songs being rare or live and exclusive to the collection. The compilation will be for sale for $100 for three days, starting on Monday, April 18th at 10:00 ET. For those unable to make the full donation, a different subset of 20 tracks will be available for $20 on each day of the sale. 100% of net proceeds from the project will benefit ShelterBox.
Other performers who have contributed songs to the collection include Ani DiFranco, Brandi Carlisle, Charlotte Martin, Elizabeth & the Catapult, Heather Nova, Sara Bareilles, Sarah Fimm, Sarah Slean, Jeffery Gaines, Gail Ann Dorsey and Wolf Parade—so it's quite the collection! If you can help out, we certainly encourage you to do so!