News: Tori Announces New Album, Tour!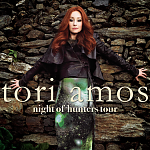 Good things come to those who wait!
ToriAmos.com has announced that Tori's new album will be called Night of Hunters and that she will be touring this Fall in support of it!
So far, there are only announced dates are in Europe, starting in Helsinki, Finland in late September and stretching through early November with a date in Dublin, Ireland. However, the press release for the record indicates that there will be a swing through North America following the European leg.
The complete list of shows (so far, we hope) are below and have been added to the Tour section where we'll add ticket purchase links, venue information and other tidbits as we come across them.
Note: many go on sale WEDNESDAY, MAY 5TH!
Sep 28
Helsinki, Finland
Ice Hall
Onsale – June 1 – www.lippuplavelu.fi / www.tiketti.fi
Sep 30
St Petersburg, Russia
Oktyabrsky Hall
Onsale – May 12 – www.muzbilet.ru
Oct 2
Russia, Moscow
Crocus Hall
Onsale – May 5 – www.parter.ru
Oct 4
Luxembourg
Den Atelier
Onsale – May 5 – www.atelier.lu
Oct 5
Paris, France
Le Grand Rex
Onsale – May 5 – www.rodrigue.fr
Oct 7
Milan, Italy
Teatro Smeraldo
Onsale – May 16 – www.ticketone.it
Oct 8
Rome, Italy
Auditorium Parco della Musica
Onsale – May 16 – www.ticketone.it
Oct 10
Hamburg, Germany
Laieszhalle
Onsale – May 13 – www.eventim.de
Oct 11
Berlin, Germany
Tempodrom
Onsale – May 13 – www.eventim.de
Oct 13
Warsaw, Poland
Sala Kongresowa
Onsale – May 5
www.livenation.pl
Oct 17
Amsterdam, Holland
Carre
Pre-sale to previous ticketbuyers of Tori – Thursday 5th at 10am local
General onsale -Saturday 7th at 10am local – www.ticketmaster.nl
Oct 20
Oslo, Norway
Sentrum Scene
Venue presale – Friday 6th
General onsale – Saturday 7th at 10:00am local – www.billettservice.no
Oct 21
Copenhagen, Denmark
The Royal Theatre
Onsale – Monday 9th at 10am local time – www.billetnet.dk
Oct 24
Lucerne, Switzerland
KKL
Onsale – May 13 – www.ticketcorner.ch
Oct 25
Vienna, Austria
Stadthalle F
Onsale – Thursday 5th at 9am local time – www.oeticket.com
Oct 26
Frankfurt, Germany
Alte Oper
Onsale – May 13 – www.eventim.de
Oct 28
Antwerp, Belgium
QEH
Onsale – May 6 – www.proximusgoformusic.be
Oct 29
Brussels, Belgium
Bozar
Onsale – May 6 – www.bozar.be
Oct 31
Essen, Germany
Philharmonie
Onsale – May 13 – www.eventim.de
Nov 2
London, UK
Royal Albert Hall
11th May – O2 Pre-sale
12th May – Live Nation Pre-sale
13th May – General on-sale
www.ticketmaster.co.uk
Nov 4
Manchester, UK
Apollo
48hr pre-sale – Wednesday 11th at 9am
General onsale – Friday 13th at 9am
www.gigsandtours.com
Nov 6
Glasgow, UK
Royal Concert Hall
Pre-sale Wednesday 11th
General onsale – Friday 13th
www.gigsinscotland.com
Nov 8
Belfast, UK
Waterfront
Onsale – May 10th at 9am local time – www.waterfront.co.uk
Nov 9
Dublin, Eire
Grand Canal Theatre
Onsale – May 12th – www.ticketmaster.ie