News: Broadway Sings Tori Redux
Posted by woj on
Friday, June 24, 2011
|
RAINN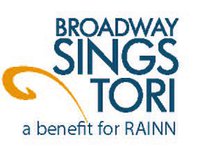 Don't forget! Broadway Sings Tori: A Benefit For RAINN takes place next Monday, June 27th, at New World Stages' Stage 2 in New York City (340 West 50th Street, between 8th and 9th Avenues).
Will Chase (Billy Elliot), Stephanie Gibson (The Addams Family), and Michael Buchanan have joined the cast which already featured Tony nominees Christine Andreas (Oklahoma, La Cage Aux Folles) and Stephanie D'Abruzzo (Avenue Q) as well as Natalie Joy Johnson (Legally Blonde, Bare), Celina Carvajal (Toxic Avenger), Steven Cutts (Hairspray, Camp), Katie Thompson (Bloodties, Giant), and Molly Pope (Our Hit Parade).
Tickets, priced from $35 to $125, are still available though Telecharge but if you purchase them through broadwayoffers.com using the code BRAMOS6, you can pick them up for the discounted price of $30.
We'd love to hear about the evening from anyone who is able to attend!