News: Not Too Lousy For A Calendar Girl
Posted by woj on
Sunday, August 07, 2011
|
Cherries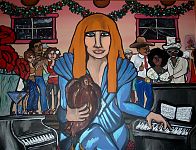 Yesterday, The Taos News reported on artist Tera Muskrat and her exhibition "New Mexico Calendar Girls," a collection of paintings of women of New Mexico done in the style of the 1940s Mexican calendar art.
While, as we all know, Tori Amos is not from New Mexico, she did live in Taos while recording Under The Pink and Muskrat elected to include her portrait of Tori in the collection on the basis of that link.
The exhibition is on display at Caffe Tazza in Taos though the end of August and will also be shown at Mary Barnes' studio in Talpa during the Fall Arts Tour. If you're in the area, check it out! And do read the full article as the ideas and thoughts behind the project are quite interesting.
Thanks to Richard for the tip and to yessaid for the image!