News: Third Johannesburg Show Added, Tickets On Sale Wednesday
Posted by woj on
Tuesday, September 06, 2011
|
Touring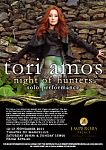 Even though Computicket is still listing two shows at the Theatre Of Marcellus at Emperors Palace in Johannesburg, both of which are "on hold", the venue's website (scroll down a bit) indicates that there will be three performances on Saturday, November 12th, a matinee on Sunday, November 13th and Monday, November 14th. Tickets for all three shows were being sold briefly earlier but are not currently available and slated to go back on-sale at 1:00 PM local time on Wednesday, September 7th.
Given that the poster for the events shows only the concerts on the 12th and 13th, we're guessing that the Monday performance was an optional date but it seems that has since been added since the venue does list it.
We'd also expect the Cape Town concert to go on sale soon even though it is not currently listed at the Grand West's website.
Thanks to elasia, Martin and @RKGraeme for the heads up!