News: Tori Appears on BBC Broadcasting House
Posted by woj on
Tuesday, September 13, 2011
|
TV/Radio/Web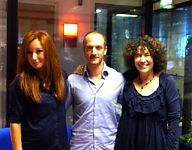 Yesterday, on the 10th anniversary of September 11th, Tori made an appearance on the BBC Radio 4 program Broadcasting House where she discussed her experience of the events of 9/11, its impact on her work and the Sunday paper headlines with host Kevin Connolly and fellow guests Francesca Simon and Jason Burke (pictured with Tori to the right).
If you missed it when it was on live, you can stream it until next Sunday on the BBC iPlayer. The segment with Tori starts around the 34 minute mark.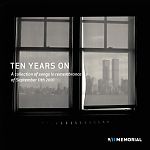 While we're on the subject on 9/11, Tori has contributed "Gold Dust" to the compilation Ten Years On – A Collection of Songs In Remembrance of September 11th 2001. The collection was assembled by Jem in conjunction with The 9/11 Memorial, which will receive 100% of the proceeds from sales of the compilation.
Finally, Scarlet's Walk garnered some mentions in pieces on musician's responses to the attacks: a small note in Rich Juzwiak's reflection for MTV and a much longer examination in Tris McCall's piece for the Star-Ledger.
Thanks to @FritchleyPaul, MarianneRose, velvet, Jeremy and Ben for help with this article.