News: Happy Night of Hunters Release Week!
Posted by woj on
Tuesday, September 20, 2011
|
Releases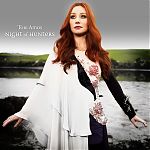 In case you weren't paying attention to the deluge of reviews, interviews and the other flotsam and jetsam we've been posting over the past few days, this week marks the world-wide release of Night of Hunters. Hopefully those of you so inclined to so will be able to get your mitts on the new release by hook or crook or, if you pre-ordered, by postal delivery.
Also, just a quick reminder for those in the States that 11:59 PM Pacific tonight marks the deadline to get your entry in to the pre-release sweepstakes and a chance to win front-row tickets to a show on the North American leg of the tour or a personally-signed copy of the vinyl release of the album. Good luck to those testing their luck there!
Not to be out-done, Australian retailer JB HiFi will be giving away a framed and autographed print of the album's cover artwork to one lucky Australian who orders either the regular or deluxe edition of the album from their website prior to October 6th. The winner will be drawn randomly from all who ordered the record online and notified soon after the October 6th deadline.