News: Undented: The Home Alone Edition
Posted by Violet on
Thursday, October 06, 2011
|
Site News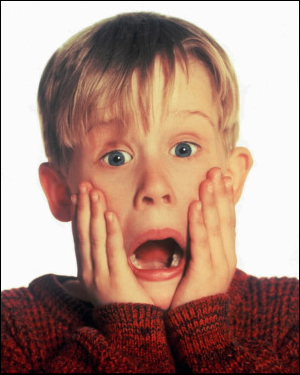 We need your help. Things are going to be wonky around here for the next two weeks…
woj has wandered off to Ireland (hey, who authorized this?!), so it's just going to be Violet and Beth holding down the Undented fort. Violet and Beth were not invited on this magically-delicious Lucky Charms trip. Violet and Beth are pissed. It's surprisingly difficult to see a computer screen through blinding jealousy. If any of you Irish fans run into him, play "Ireland" for him. Every last one of you. Over and over. He likes that song. (No, he really does!)
As woj is the one who spends the most time scouring the nooks and crannies of the Interwebs to ferret out the [many] news items that aren't sent in and he's gone off skipping with the leprechauns (oh great, he's just texted from a Dublin hotel saying he's gonna get a Guiness, the swine!), we're hoping you guys will lend us a hand by being extra vigilant and letting us know if you spot anything interesting anywhere.
The biggest way you can help us out is by submitting all news via the Contact form. A lot of folks send us news via Twitter and Facebook, but it's harder for us to track there, especially if we're not logged in. Even when we are, news gets lost in the chatter. Things scroll in, things scroll out, poof! Even if we do see a piece of news you've sent our way and pass it along in our stream, unless we remember it LATER and go back and hunt for it (assuming we can even find it again), it's gone gone gone, dancing somewhere out in the ether with that cool alarm clock we had in 6th grade.
So if you come across something and send it through the form, there's no way we can miss it.
As always, submit concert reviews via the flashback pages in the Tour section. For all other show-related stuffs (setlists, corrections, links to videos/photos, pic files that need to be sent as attachments, etc), email those directly to Violet with the show's city in the subject line and include the name we should use to credit you.
The photo and video portions of the concert flashback pages will suffer most with woj away, which you may already have noticed. He typically handles that. Violet is going to do her best to man the post, but she's slow as molasses at sorting and organizing and compressing and uploading, so it's going to take longer than normal for those to be added. Re-sizing and compressing your photos in advance would be a huge help! YES, YES!!! (640px or less in height, 100kb or less in file size.) Any that she doesn't get up, woj will take care of when he gets back.
So we hope you'll be patient with us. It's going to be challenging, but with your help we'll be able to get by without going all psycho on Joe Pesci. Besides, he could probably beat us up. Okay, he definitely could.