News: Washington Post Express Interview (December 1, 2011)
Posted by woj on
Saturday, December 03, 2011
|
Articles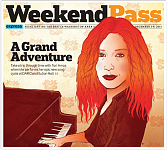 The string quartet on the record is coming out with us. They're Polish boys in their 20s and 30s, and they shred like nobody's business. It's like a hurricane of vodka coming through their wood.
The Washington Post Express deemed Tori worthy, as many of us would agree, of being the cover story for the this week's Weekend Pass section. The article isn't as much an interview as a concert preview for Monday's show at DAR Constitution Hall but, in addition to discussing Night of Hunters, it does include a few quotable quotes about the record and touring with the Apollon Musagète Quartett.
In addition, Brian Taylor, the illustrator who did the artwork for the insert cover, has posted about it on his blog — very nifty!
---
Shape Shifter
Tori Amos goes classical with an ambitious new album full of changelings, time travel and magic elixirs
By Stephen M. Deusner
Posted on December 1, 2011
Tori Amos does grandiosity like no one else. With a huge voice and her signature grand piano, the singer-songwriter, 48, has explored a wide landscape of often controversial themes in her work, fusing a fiery rock sensibility with classical instrumentation uncommon in modern pop music.
Amos' 12th album, the just-released "Night of Hunters," keeps with her tradition of tackling big concepts. Commissioned by the German classical label Deutsche Grammophon, the record is a song cycle in the tradition of "Winterreise," a vocal and piano piece by 19th-century Austrian composer Franz Schubert based on 24 poems by German lyrical poet Wilhelm Müller, says Amos. Accompanied by flourishes of woodwinds, strings and her trusty Bösendorfer piano, Amos spins an intricate story involving time travel, magic and ancient battles. It's a big departure from the radio pop of hits like "Cornflake Girl."
Like most of Amos' albums, "Night of Hunters" was recorded at her studio in Cornwall in southwest England. But she looked to Irish mythology for inspiration — particularly for the "shape-shifter" character that the cycle follows through various challenges, taking the form of a girl, a fox and a goose.
Though the album's central tale sounds ethereal, its genesis is a very modern story: that of the current economic crisis in America. Touring on her 2009 album, "Abnormally Attracted to Sin," Amos found herself speaking to many fans who were struggling to make ends meet.
"So many people were coming up to me and saying, 'I don't know where I'll be living in a year.' I heard that day after day," she recalls. "Lives were changing overnight — people losing their jobs, their houses. I gathered all of these elements and put them into one woman, who transforms her life from dusk to dawn. She travels into a past life through an elixir — in this case, peyote — and has this transformative experience. She collects the fragments of her soul that she has somehow lost."
On the album, that changeling role is sung by Amos' 11-year old daughter, Natasha. "She's quite an accomplished actor, and she can sing," Amos says. "I needed somebody who could really act some of these parts, and I know what's in her bow and quiver, so I designed a character around what I know she can do."
The album's songs are complex and the classical arrangements exacting, but Amos thinks they'll be accessible to her pop audience because they carry a certain energy. "These beings are timeless," she says of the songs. "I just was able to transcribe them from their state of consciousness into the form you hear on the record."
On the Road
One of the challenges Amos faced after recording "Night of Hunters" was how to translate the intricate songs for a live tour. She stripped down some of the arrangements to suit them to a smaller group of road musicians. "The string quartet on the record is coming out with us," she says excitedly. "They're Polish boys in their 20s and 30s, and they shred like nobody's business. It's like a hurricane of vodka coming through their wood."
5 Songs: Essential Tori
"Silent All These Years" ("Little Earthquakes," 1992)
With its tinkly piano theme, soaring vocals and inscrutable lyrics, Amos' first single (from her first solo album) remains the perfect introduction to her aesthetic.
"God" ("Under the Pink," 1994)
This may be one of Amos' most conceptually bold compositions, as she worries aloud that The Man Upstairs could benefit from the influence of a good woman.
"Caught a Lite Sneeze" ("Boys for Pele," 1996)
On her third album, Amos moved away from spare piano-and-orchestra arrangements to dabble in harpsichord and programmed beats.
"A Sorta Fairytale" ("Scarlet's Walk," 2002)
Backed by a full rock band, Amos wrote a collection of road-trip songs for her seventh album, including this single about lovers mapping new geographic and emotional terrain.
"Bouncing Off Clouds" ("American Doll Posse," 2007)
Amos played with perspective on this concept album. This song is from the point of view of Clyde, one of five semi-autobiographical characters.
Constitution Hall, 1776 D St. NW; Mon., 8 p.m., $45; 202-628-4780. (Farragut West)