News: New York: A Toast In Your Honor
Posted by woj on
Saturday, December 03, 2011
|
Touring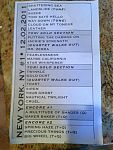 Last night was the first of two nights at New York's Beacon Theatre. Sticking right to the printed setlist, Tori and the Quartett powered through a concert that featured "Fearlessness," "Spring Haze," "Siren," "Precious Things," a stunning solo performance of "Putting The Damage On" and, speaking s someone who was in the audience, a devastating run of album closers — "Twinkle, "Gold Dust" and "Toast" — that made up the second solo section of the show.
The full setlist has been posted in the Tour section, with thatnks to @tender_buttons and @vervalicious who co-tweeted from the show and we've already received several reviews and comments on the performance from folks in attendance. If yo'd like to add your opinion as well, we'd love to hear it! Just post it using the comment form (and be patient as we may not get new reviews moderated until later tonight or tomorrow).
The second show at the Beacon is tonight! Dropping the royal we for a second, I'll be there taking it in from somewhere in the lower balcony. Assuming all works out, I'll post the set from show on our Twitter feed so follow along if you'd like!
Finally, if you're still dithering about coming tonight — or to any show on the tour for that matter — NBC New York is more than happy to help you make up your mind.