News: Time For The Geese To Head South
Posted by woj on
Sunday, December 11, 2011
|
Touring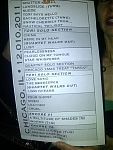 The only Midwestern stop on the Night of Hunters tour took place on a frosty evening at the Chicago Theatre in (wait for it) Chicago last night. The set included one extra song — an instrumental piece by the Apollon Musagète Quartett that was listed on the printed setlist as "Chicago Christmas Treat 'Tango'" — in between second quartet and solo sections of the performance. The Quartett were also featured on "Snow Cherries From France," "Cloud On My Tongue," and for the second time on tour, "Father Lucifer." Solo selections included "Bachelorette," "Here. In My Head," "The Beekeeper," and a cover of The Cure's "Love Song."
The full setlist is up in the Tour section, with many thanks to @theburlapfairie, @ToriFan247 and the gods of cell phone reception for live updates from the show on Twitter.
If you were at the concert, we'd love to hear what you thought of it! If you'd like to share, please use the comment form on the concert page.
Next stop: Vancouver! See you Tuesday!