News: Sin Palabras Released Today
Posted by woj on
Tuesday, December 13, 2011
|
Releases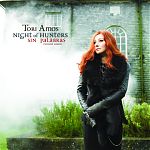 Don't forget: Sin Palabras, the instrumental version of Night of Hunters, is released digitally in North America. It's on iTunes, Amazon.com and, undoubtedly, other digital retailers as well.
There is a listing on Amazon.co.uk for the release as well, but the listing says the album has an "original release date" of December 19, 2011 but will not be avaialble until April 13, 2012. One assumes this is an error and that it will be corrected sooner or later…
Hopefully, Sin Palabras will be available in other markets as well!
Note: with a copy of the Night of Hunters CD, you can still download a free copy of "Night of Hunters" (the instrumental track, not the whole album) from the Tori Amos Facebook page to get a taste of the instrumental version of the record.