News: Your Chance To Catch The "Fab Four"
Posted by Beth on
Monday, January 09, 2012
|
Them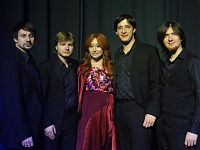 In case you didn't get enough of the Apollon Musagète Quartett — Tori's "Fab Four" — on the Night of Hunters tour, you're in luck: They're touring parts of Europe this spring. New Yorkers are also in luck: they'll be at Carnegie Hall in November. For more information, click the link above to their Web site, or follow them on Facebook. Click through the jump to see their upcoming tour dates!

---
Jan 9th 2012: Regenthaus Bad Kissingen, Germany
Jan 12th 2012: Schloss Elmau, Germany
Jan 15th 2012: Wigmore Hall, London, UK
Jan 17th 2012: Handelbeurs, Ghent, Belgium
Jan 27th 2012: Stadttheater Aschaffenburg, Germany
Jan 29th 2012: Stadttheater Aschaffenburg, Germany
Feb 16th-19th 2012: Vinterfest Dalarna, Sweden
Feb 22nd 2012: Laeiszhalle\Elbphilharmonie Hamburg, Germany
Feb 23rd 2012: Great Hall
QUB
, Belfast, Ireland
Feb 24th 2012: "Les Grand Interprètes", Konservatorium Geneva, Switzerland
Feb 25th 2012: Festival Musique et Neige, Switzerland
Feb 26th 2012: Tonhalle Zurich, Switzerland
Feb 28th 2012: Tiroler Landeskonservatorium, Innsbruck, Austria
Feb 29th 2012: Grünwald, Germany
March 3rd 2012: Esch sur Azette, Luxemburg
March 14th 2012: Kloster Polling, Germany
March 15th 2012: Herkulessaal Munich, Germany
April 28th 2012: Lustenau, Germany
April 29th 2012: Konstanz, Germany
June 3rd 2012: Philharmonie Essen, Germany
June 17th 2012: Theater Coesfeld, Germany
June 29th – 7 July 2012: West Cork Festival, Ireland
August 28th 2012: Brunico, Italy
August 30th 2012: Lucerne Festival, Switzerland
November 15th 2012: Carnegie Hall, New York,
USA