News: Happy 20th Birthday Little Earthquakes!
Posted by woj on
Friday, January 13, 2012
|
Releases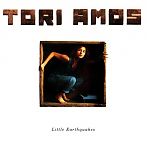 Twenty years ago today, Little Earthquakes, Tori's debut solo album, was released in the United Kingdom. (It would be another month until the record was available in North America.) For more than a few Toriphiles, these songs were the ones that introduced us to Tori, whether we were lucky enough to hear then them or it was some time afterwards that the record came into our lives. Whether because of the lyrical, emotional or musical components — or some combination thereof — this record enchanted us then and continues to do so today and the songs from it always seem to produce the biggest cheers at her shows.
After its release, Little Earthquakes peaked at #14 in the UK charts, and remained on the charts for 23 weeks. It was certified gold in January 1993, platinum in January 1995, and double platinum in March 1999.
A couple of months after Little Earthquakes made its UK debut, Tori spent an hour chatting with MTV's John Norris about the album, her decision to move to London to record it, and everything that followed. Here's a snippet:
The rest of the interview is available over on YouTube, for those who want to spend more time in the Wayback Machine.
As she's mentioned in several interviews over the past few months, Tori will be observing the anniversary of Little Earthquakes with a collection of her songs recorded with The Metropole Orkest. The career retrospective will revisit songs from throughout her career. At this time, the exact release date is not known but the rumor mill seems to point to it being available in Autumn. (The rumor mill also grinds about the possibility of some tour dates but we'll have to see how that pans out!)
So, if you have a chance, pull Little Earthquakes out today and give her a spin. It's a safe bet you'll both enjoy it!
Update: We weren't the only folks to observe the 20th anniversary of Little Earthquakes last Friday. NME, one of those everyone-loves-to-hate UK music magazines, featured a look-back at the album on their Popwatch blog while Stereogum cast a reflective eye on the album that puts our little piece on the event to shame. Friend-of-the-Undent Trent Vanegas also put in his two cents about the record's historical and personal significance over on Pink Is the New Blog. Thanks to Oliver and Chris for the links!