News: 100 Greatest Women In Music Recapped
Posted by woj on
Sunday, February 19, 2012
|
TV/Radio/Web
,
Video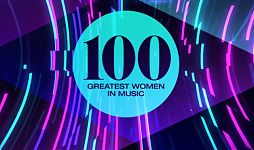 Now that the five episodes of VH1's 100 Greatest Women In Music have concluded, here's a quick rundown of Tori's involvement in the program.
First, she placed #54 on the list. Each woman who did was given a short spot where various musicians, critics and celebrities talked about the woman in question, alternating between the blurbs and videos or live footage. Tori's spot was included during the third hour of the five-hour series and as clips from the "Crucify." "Silent All These Years," and "A Sorta Fairytale" videos and a couple quick shots from live performances were shown, included the following quips
Regina Spektor: "Tori Amos is great."
Amy Lee: "Tori Amos is one of my all-time favorite artists. One of the things I love about her is her raw emotion."
Jewel: "She's very courageous. I love girls that have balls."
Rebecca Corry: "You shouldn't listen to Tori Amos if you're

PMS

because you will immediately bawl."
Tori: "I think music is a great healer for so many people. Well, I know it has been in my life."
Steve Huey: "Tori always had this way of playing the piano that it seemed like her whole body was going into it. It was this really intense experience just watching her do it."
Amy Lee: "I could listen to Tori Amos for the rest of my life and, honestly, with all the music she's made, it would be enough music."
Tori: "Being acknowledged as a woman in music that has made some kind of impact, there's really nothing better that you could say to me."
Second, Tori weighed in on several fellow women on the list. Her comments on the following women included:
On Courtney Love (#69): "She's influence d alo otf the young ones that are coming up. You can see her influence in their presentation: how they dress, their attitude."
On Fiona Apple (#55): "Fiona Apple is one of the great singer/songwriters of our time and the world needs her music."
On Sarah McLachlan (#53): "Her music takes to another place, another dimension. She creates some of the most beautiful music I've ever heard. When I hear her music, I'm always inspired."
On Melissa Etheridge (#42): "What a force she's been in music and the fact that she's still out there and still vital is very unique to Melissa Etheridge."
On Jewel (#41): "You have to think about the kind of composer that can do that. And that is quite a unique ability."
On Cher (#31): "Cher has been able to show people that as she ages, she's still sexy and sensual."
Third, VH1 has posted some bonus clips from their interview with Tori that was used to source her comments during the show. Two clips have been posted so far, one about Y Kant Tori Read and another about playing the piano. Check them out below:
The complete list is posted on VH1's music blog Tuner and keep an eye on The Greatest's web page for other highlights and bonus clips from the show. You can also catch rebroadcasts of all episodes on VH1 — check their program guide for air times.
Update Thanks to drownedparadise for posting a lo-tech, but effective, video of Tori's spot on this show on the Youtube: