News: A Book For Pele Redux
Posted by woj on
Tuesday, July 10, 2012
|
Cherries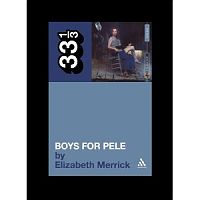 Remember the Boys for Pele book for Continuum Press' 33 1/3 book series? No? Not even a little?
Well, to be honest, we'd kind of forgotten about it too so here's a quick recap: we first got wind of it when author Elizabeth Merrick blogged that she was working on the book. Not long afterwards, Continuum included it in a forthcoming list on their blog. Then, for a long time, nothing but eerie silence…until a few weeks ago when Ms. Merrick remembered how to post to her blog and sent an update about the book into the ether.
Her post is quite interesting and worth reading all the way through so please do so but for those who want the executive summary: 1) she's still working on the book; 2) she's writing it in a rather novel way using brush and ink; 3) she'll be posting the occasional anecdote and tidbit on Twitter and 4) she's really enjoying the process!
She mentions that the book is currently slated for publication in 2013 and Amazon agrees, showing a May 2, 2013 pubdate in the States and July 4, 2013 in the UK.
Thanks to Paul for the Amazon tip…and for the reminder that we needed to post about it. (We'd updated our Twitter and Facebook the day Elizabeth posted her latest update but, for various boring reasons, sorta-kinda neglected to get this on the main site until now. Oops. Mea culpa.)