News: Royal Albert Hall Review Roundup Redux
Posted by woj on
Friday, October 12, 2012
|
Articles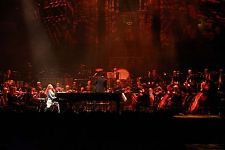 A week on and a few more reviews of last Wednesday's Royal Albert Hall concert have rolled in.
Italian music website SpazioRock declared the performance "a magical and unique night" while The Fly takes a slightly more sober tack, appreciating the "charming" performance but ultimately finding the orchestra little too constraining for their tastes. Finally, Clash Music effusively decreed the show "a triumphant evening for an artist who has consistently thought outside the box, and is now exploding it from the inside." (Whoa!)
The Clash Music review also includes a gallery of photographs from the which we ganked the little picture adorning this story.