News: The ECHO Klassik Awards
Posted by woj on
Monday, October 15, 2012
|
Cherries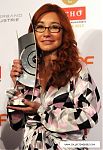 Tori accepted the ECHO Klassik award she won for Night of Hunters at an awards ceremony tonight at the Konzerthaus in Berlin.
She was one of three artists to receive a Klassik-Ohne-Grenzen (Classical Without Borders) prize.
While she did not perform at the awards ceremony, she did present an ECHO Klassik "Nachwuchskünstlerin" (Up and Coming Artist) award to the outstanding pianist Khatia Buniatishvili for her Franz Liszt collection released last year.
The awards ceremony was broadcast on ZDF and should be archived on ZDF.de soon.
Tori was interviewed on the red carpet before the ceremony by ECHO Klassik's Axel Brüggemann and they've shared a clip of it on YouTube:
Don't forget: Tori will be one of the guests on ZDF's Morgenmagazin morning television program. The show airs from 5:30 to 9:00 AM CEST but Klassik Akzente reports that she'll be on during the last hour of the program.
Update Thanks to llliquidDiamonds, you can watch the portion of the ceremony where Tori receives her award on YouTube:
And when she introduces the Upcoming Artist award to Khatia Buniatishvili: