News: Coraline Turns Ten; Tash Helps Neil Celebrate
Posted by woj on
Friday, October 26, 2012
|
Them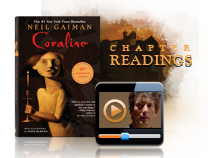 Neil Gaiman, who should need no introduction to fans of Tori Amos and readers of this site, is celebrating the tenth anniversary of his book Coraline by getting together with some of his friends and reading it to you.
Naturally, Neil himself kicks it off with the first chapter and fellow author Lemony Snicket handles the second but of particular interest to Toriphiles is the reader of the third chapter — none other than Natashya Hawley, Tori's daughter.
They're through the seventh chapter now and have six more to go — naturally, Coraline has thirteen chapters. And while most may be inclined to think having a spooky story read to you makes a great nightcap to end a day, I have to say it's been quite nice listening to a chapter each morning to start mine. Either way though, most enjoyable!
Thanks to Ryan and Richard for letting us know!