News: Bild Interview (October 23, 2012)
Posted by woj on
Friday, October 26, 2012
|
Articles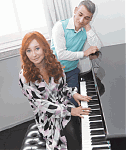 Music saved my life, healed me. When one creates something, a wound can become something new and magical.
The German magazine Bild interviwed Tori and posted the article on Tuesday. The article is more a profile than interview but includes some good quotes as well as this nice photograph of Tori with the article's author, Björn Wolfram, as the first image in a little photo gallery that includes some shots from the Berlin concert of the Gold Dust tour.
Naturally, the article is in German but we've included a rough translation (thank you Google) after the jump that we'll try to smooth out as time allows.
Thanks to Dieter for the link!
---
BILD

TRIFFT

PIANO

-

ELFE

TORI

AMOS
"Die Musik hat mir das Leben gerettet!"
Von BJÖRN WOLFRAM
23.10.2012 — 21:07 Uhr
Feuerrotes Haar, begnadetes Klavierspiel und eine Stimme, die aus dem tiefsten Inneren kommt: Tori Amos (49; "Crucify", "Cornflake Girl") ist die Elfe der Popmusik, bekam gerade in Berlin einen "Klassik Echo" verliehen.
Die US-Künstlerin im BILD-Interview: "All die Straßenmusiker hier, viele von ihnen sind so begabt! Wer weiß: Wenn die Glücksfeen nicht ihren Goldstaub auf mich gestreut hätten – vielleicht wäre ich heute Straßenmusikerin in Berlin!"
DIE KARRIERE VON TORI AMOS IST EINE DER UNGEWÖHNLICHSTEN DER MUSIKGESCHICHTE!
Mit fünf kommt Wunderkind Tori aufs Konservatorium. Mit elf fliegt sie. Denn: Nicht Joseph Haydn, sondern Jimi Hendrix will sie studieren!
Doch Tori macht weiter, sucht die Bühne. Ihr erstes Engagement: in einer Schwulen-Bar. Sie ist 13 und spielt Standards – unter dem strengen Blick von Vater Edison, einem Methodisten-Pfarrer.
Über zehn Jahre tritt Tori Amos in Bars auf, wartet auf den großen Durchbruch. Mittlerweile schreibt sie eigene Songs, hat unzählige Demos verschickt – ohne Erfolg. Sie veröffentlicht das Rock-Album "Y Kant Tori Read" (ein grandioser Flop), hält sich mit Jobs als Background-Sängerin und Komparsin über Wasser. Beim Casting für die Rolle in einem Werbespot für "Kellogg's Cornflakes" sticht sie die damals ebenfalls noch unbekannte Sarah Jessica Parker (47) aus!
Als Tori Amos 29 ist, rieselt endlich "Goldstaub" auf sie herab: Ihr Debüt "Little Earthquakes" wird 1992 zum Überraschungshit (bis heute hat sie über 15 Mio. Alben verkauft).
Mit "Little Earthquakes" wird Tori Amos schlagartig zum Weltstar. Klavier- und gefühlsbetonte Lieder wie "Silent All These Years" und "Winter" bohren sich wohlig in die Herzen von Millionen – der Künstlerin dienen sie auch als Therapie, denn sie hat Furchtbares zu verarbeiten:
► Mit 21 wird Tori Amos vergewaltigt. Sie hat nach einem Bar-Auftritt einen Gast in ihrem Auto mitgenommen. Er bedroht sie mit einem Messer, fällt über sie her. Erst sieben Jahre später kann Tori darüber sprechen
► Drei Fehlgeburten erleidet Tori Amos, bis sie am 5. September 2000 eine
gesunde Tochter zur Welt bringt
► Ihr geliebter Bruder Michael (†50) kommt 2004 bei einem Verkehrsunfall ums Leben
Tori Amos (aktuelles Album "Gold Dust") zu BILD: "Die Musik rettete mir das Leben, heilte mich. Wenn man etwas kreiert, wird eine Wunde zu etwas Neuem, Magischem!"
Seelenfrieden gibt Tori Amos mittlerweile auch die Familie: Seit 14 Jahren ist sie mit dem Tontechniker Mark Hawley (50) verheiratet, lebt mit ihm und Tochter Natashya (12) abwechselnd im englischen Cornwall und in Florida.
Tori zu BILD: "Ich bin echt eine manische Musikerin. Gerade in meinen Anfängen war ich eigentlich nur damit beschäftigt, meine Musik auf eine höhere Ebene zu bringen. Daran zerbrachen auch Beziehungen. Es gab für mich einfach keinen Grund, das Tonstudio zu verlassen. Für meine Tochter und meinen Mann tue ich das aber. Dann bin ich einfach nur Ehefrau und Mutter – mit Haut und Haaren."
---
IMAGE
MEETS
PIANO
ELF
TORI
AMOS
"The music gave me saved my life! "
By Bjorn WOLFRAM
Fire Redhead, gifted piano playing and a voice that comes from deep within: Tori Amos (49; " Crucify ", " Cornflake Girl ") is the elf of pop music, just got in Berlin a " awarded Echo Klassik ".
The U.S. artist in BILD interview: "All the street musicians here, many of them are so talented! Who knows, if the good fairies had not spread their gold dust to me – maybe I would have been street musician in Berlin "!
THE CAREER OF TORI AMOS IS ONE OF THE UNUSUAL OF MUSIC HISTORY!
With five prodigy Tori comes to the conservatory. At eleven, she flies. Because not Joseph Haydn, but Jimi Hendrix study she wants! But Tori continues, look for the stage. Her first engagement: in a gay bar. She is 13 and plays standards – under the strict eye of Edison's father, a Methodist minister.
Over ten years does Tori Amos in bars, waiting for the big breakthrough.
Meanwhile, she writes her own songs, has sent countless demos – without success. They released the rock album "Y Kant Tori Read" (a terrific flop), talks to jobs as a background singer and Komparsin afloat. When casting for the role in a commercial for "Kellogg's Cornflakes" she stabs the time also still unknown Sarah Jessica Parker (47) from!
As Tori Amos is 29, finally trickles "gold dust" down on them: Their debut "Little Earthquakes" is the surprise hit of 1992 (to date she has sold over 15 million albums).
With "Little Earthquakes" Tori Amos is suddenly an international star piano and emotional songs like "Silent All These Years" and "winter" burrow comfortably in the hearts of millions -. The artist, they also serve as therapy, because she has terrible to : process
► At 21, Tori Amos is raped. She has for a bar appearance brought a guest in their car. He threatened her with a knife, falls on her. Only seven years later, Tori can talk about it
► Three miscarriages suffered Tori Amos until it on 5 September 2000, a healthy daughter gives birth
► Your beloved brother Michael is († 50), 2004 in a car accident
Tori Amos (current album "Gold Dust") told BILD: "Music saved my life, heal me if you create something, it is a wound to something new, magical."
Peace of mind Tori Amos are now also the family: For 14 years, she has been married to sound engineer Mark Hawley (50), with his daughter and Natashya (12) alternately lived in Cornwall, England, and Florida.
Tori told BILD: "I'm really a manic musician. Especially in my early days I was really busy just trying to bring my music to a higher level. It also broke relations. There was simply no reason for me to leave the studio. For my daughter and my husband, but I do. I'm just a wife and mother -., Body and soul "