News: Joe Jackson Publishes His Interviews With Tori
Posted by woj on
Wednesday, February 06, 2013
|
Articles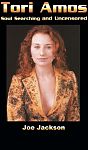 Music journalist Joe Jackson, who Toriphiles should recognize as the person behind some of Tori's most revealing and intriguing interviews over her career, has e-published the texts of four of conversations with her in Tori Amos: Soul Searching and Uncensored.
The unexpurgated interviews, published in The Irish Times, The Sunday Times and magazines globally, are joined in the ebook by Joe's 2010 piece for The Independent, My Spirit Walk With Tori Amos, in which he reminisces about his history with Ms. Amos.
The e-book is available in a plethora of formats from Smashwords and from Amazon for the Kindle.
Note: Jackson's website, to which we linked in our article about the Spirit Walk article, is seemingly no longer active. However, he is active on Facebook and Twitter if you are so-inclined to keep up with his activities.