News: Gold Dust To See Japanese Release
Posted by woj on
Wednesday, February 06, 2013
|
Releases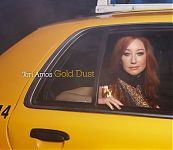 In a somewhat out-of-the-blue development, Gold Dust will be released in Japan by Universal Music on March 6, 2013.
According to the various online retailers which are listing it, the release will be a SHM-CD (Super High Material CD), a compact disc format that is compatible with regular CD player but purported to sound better on playback. More importantly, it will, as is often the case with Japanese releases, include bonus tracks. Specifically, it will include both "Snow Angel" and "Maybe California," previously only available as bonus tracks for the digital download editions of the album on Amazon and iTunes.
The release can be pre-ordered from various Japanese retailers including Amazon, CD Japan, HMV and Tower.
Thanks to Yuta for the news about this release!