News: Just A Little Reminder Dear: Caprices Festival This Sunday
Posted by woj on
Saturday, March 09, 2013
|
Touring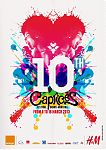 Lest anyone forget, Tori will be in concert at the Caprices Festival in Crans-Montana, Switerland this weekend! The one-off solo performance takes place Sunday, March 10th at La Luna (The Moon).
Also on the bill are the Israeli singer Noa and Roger Hodgson, whom some may remember as a member of Supertramp — not a bad line-up at all!
Doors for the show open at 6:00 PM and the concert is scheduled to start at 7:00 PM CET. Tori's headling so she should be on a hour or two after that.
Hope that everyone who is travelling to Crans-Montana for the show has a safe trip and enjoys the performance! If anyone who is going would like to text us the setlist or will be posting it on Twitter, please let us know!