News: From The Other Side Of The Mountain
Posted by woj on
Monday, March 11, 2013
|
Touring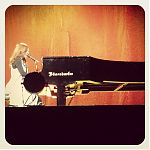 Tori's performance at the Caprices Festival in Switzerland is in the books. Thanks to @luiscueto, who kindly tweeted from the show, the full setlist is up in the Tour section already.
The one-off concert was, unsurprisingly, a solo performance that featured "Take To The Sky" including the "room in my heart" bridge from "Datura," "Little Earthquakes," "Putting The Damage On," and the rarely-played "Mountain" in the encore! The set was also rife with covers from her hallmark rendition of Nirvana's "Smells Like Teen Spirit" to, joining "Mountain" in the encore, The Cure's "Lovesong" and U2's "Running To Stand Still."
We'd love to hear the thoughts and reviews of those who were at the show! If you were and would like to share, please post a review using the comment form at the bottom of the setlist's page.