News: More From Caprices
Posted by woj on
Tuesday, March 12, 2013
|
Touring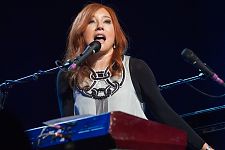 The first few YouTube videos from Sunday's performance at the Caprices Festival have started to show up. All that we've found so far, including "Take To The Sky," "Personal Jesus"/"Body and Soul," and "Mountain," have been added to the Caprices page in the Tour section.
Additionally, some reviews and other media bitsies have appeared elsewhere.
Caprices' media-partner 20 Minutes has posted a partial clip of "Bouncing Off Clouds" from the concert and an interview clip done at the festival on the video portal. A few photographs from the concert can also be found buried in 20 Minutes' Caprices slideshow. Thanks to Mandy for the tip on those!
Music block Rock Subculture is on the ground at the festival and have posted a review of the entire Sunday evening program. The review is quite glowing but, perhaps of more interest to most of us, it includes a slew of photographs from the concert. Thanks to mkgtweety for sending us that link!
Update: Le Nouvelliste has a photo gallery from the festival where a few more shots of Tori's performance can be found. Thanks again to Mandy!
More as other stuff pops up!