News: Flavor Remixer Peter Rauhofer Has Passed Away
Posted by Violet on
Wednesday, May 08, 2013
|
Them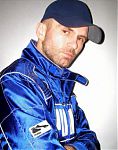 Peter Rauhofer, the Grammy-winning DJ and producer who did the "Flavor" remixes for Tori, died today at 48 of brain cancer. Tragically, the cancer was only discovered a few weeks ago when Peter had a seizure and was rushed to the hospital. A large brain tumor was discovered and by that point the cancer was too far advanced.
Earlier today, Tori posted the following message on Facebook:
Today I learned of the very sad news that Peter Rauhofer has passed away suddenly. I will always hold a very special place in my heart for Peter and his re mixes of Flavor. He truly captured the spirit of the song and helped create a #1 Dance Club Record. I am sending send my love and thoughts to his family and friends at this very sad time.
hugs t
Our deepest condolences go out to Peter's family and friends.