News: The Curious Case Of A Curious Night At The Theatre
Posted by woj on
Tuesday, May 28, 2013
|
Cherries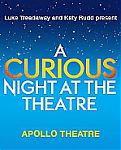 While we were out enjoying the Memorial Day holiday yesterday, a curious article from Time Out London's "Now. Here. This." blog came across the news wire.
Highlighting A Curious Night at the Theatre, a fundraiser for The National Autistic Society and Ambitious about Autism organized by actor Luke Treadaway and director Katy Rudd, the article indicated that Tori would be "singing" at the event. However, Time Out London's listing for the event does not mention Tori and neither charity's websites list her appearing — although Ambitious about Autism mentions her in conjunction with passes to a rehearsal of The Light Princess that is one of the several prizes that will be auctioned off.
Fortunately, muddy waters can be cleared: we've gotten confirmation that she will not be appearing at this event.
However, don't let that stop you from attending if you can as the cause is good and the impressive line-up includes the one-off performance of a new Curious Detective Story written by playwright Simon Stephens and author Mark Haddon by the cast of The Curious Incident of the Dog in Night-Time (including Luke Treadaway) , performances by Bat For Lashes and The Boxettes, comedy from Simon Amstell and James Corden, and special video appearances from Helen Mirren, Matt Smith and Andrew Scott. Not a bad evening at all! Plus, there's that pass into a rehearsal for The Light Princess up for auction!
It all goes down on Monday, July 1st at the Apollo Theatre in London's West End. VIP tickets are available via rsvpBOOK while regular tickets can be purchased from the Nimax Theatres' box office.