News: The Light Princess At Last!
Posted by woj on
Thursday, June 13, 2013
|
Cherries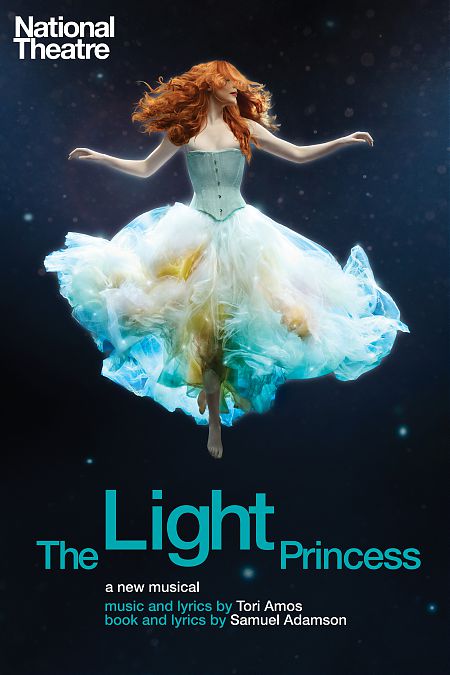 After sharing three teaser clips from the poster for The Light Princess over the past couple days, The National Theatre has unveiled the complete image for the musical on Twitter this morning. They've also indicated that tickets will go on sale to the general public on July 1st.
If you head over to The National's website, you'll find that the show's page is now live where it states that performances will start on September 25th. Additional ticketing details including prices and a schedule of when they will go on-sale — there are earlier dates for theatre supporters — are listed as well as the cast and show's description:
Once, in opposing kingdoms lived a princess and a prince who had lost their mothers. Althea, unable to cry, became light with grief and floated, and so was locked away. Digby became so heavy-hearted that he could never smile, and so was trained as a warrior.
One day, he declares war. Althea is forced out of hiding and down to ground but, in defiance of her father, she escapes, only to encounter the solemn prince on contested land. Beside a lake the warring heirs begin a passionate and illicit affair. But for Althea to find real love, she must first confront the world's darkness and face her own deepest fears.
The Light Princess brings together iconic singersongwriter Tori Amos with playwright Samuel Adamson and director Marianne Elliott (Curious Incident) in this spectacular coming-of-age story. A dark fairytale about grief, rebellion and the power of love.
Finally, there is one little bit of what we assume to the be lyrics for the show:
I'm done, Father, Keep your crown,
I swear you'll never bring me down!
I am not queen material!
Update: The National Theatre's webpage for the musical also links to this event, a special conversation between Tori and playwright Samuel Adamson where they will discuss the musical. This one-time discussion will take place on Friday, October 18th at 6pm at The Lyttelton Theatre, preceding that evening's performance we assume.
Tickets will go on sale to the general public on July 1st.