News: Raisin Girl: A 50th Birthday Celebration for Tori Amos
Posted by woj on
Wednesday, August 14, 2013
|
RAINN
,
Toriphiles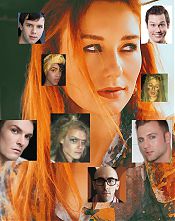 Live in or near New York City or going to be around the metro area this coming weekend? Looking for a fun and unique way to celebrate Tori's upcoming birthday? Well, look no further as Enid Ellen and singer/songwriter/pianist Greg Potter have got you covered with Raisin Girl: A 50th Birthday Celebration For Tori Amos, taking place at Joe's Pub on Sunday, August 18th at 9:30pm.
Along with fellow devotees Cole Escola, Nicholas Gorham, Dane Terry, Kim Smith, Erin Markey, Joseph Keckler, Brett Every, Natti Vogel, Dan Fishback, and B0DYH1GH, they'll be performing a range of Tori's songs in the intimate confines of The Public Theatre's posh night club and, as a portion of the night's proceeds will be donated to RAINN, raising some funds for a good cause as well.
For more information and insight, check out the event's Facebook page and this interview of Enid Ellen and Greg Potter by Adrienne Trier-Bieniek (whose name may ring some bells) in The Examiner.
Tickets are still available from the Joe's Pub box office.