News: The Light Princess Premieres!
Posted by woj on
Thursday, September 26, 2013
|
Cherries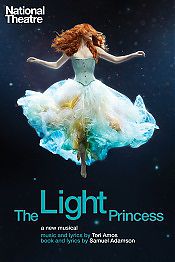 Tonight was the first night of previews — the world premiere, as it were, though some might reserve that phrase for the press night on October 9th — for The Light Princess, the new musical penned by the creative team of Samuel Adamson and Tori Amos for The National Theatre in London.
Congratulations to them, the cast, musicians, crew,and everyone working behind the scenes for making the show a reality!
While press reviews won't appear for some time to come (well, probably), the early accolades on the Internet are very positive! Dip your toes in the Twitter stream of Light Princess love to get a taste of what people are saying. And, lest we forget, Facebook has hashtags now too and, shockingly, some people are even using them! Check it, though you'll only see public posts and anything from your friends.
Of course, we'd love to hear what those fortunate enough to attend any performance have to think about of the musical. If you would like to share (and we hope you do), please send us a review using the form at the bottom of that there page. We'll be posting your reviews there as well — and a couple are already there, in fact. After all, early birds get the worm…or so they say. Whoever they are.
In any case, best wishes and heartfelt thanks to all who have worked to make this project a reality and may all who wish to be able to see it someday!