News: Twenty Years Of Under The Pink!
Posted by woj on
Saturday, February 01, 2014
|
Releases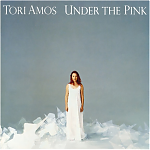 Twenty years ago today, January 31st, following a two week delay, Tori Amos' second solo album Under the Pink, saw the light of day with its release in the United Kingdom and Europe. One day later, as is the custom, it was in North American stores as well.
And twenty years later, it still sounds as fresh and vibrant as it did then.
So, as the week draws to a close on the evening between its transatlantic anniversaries, we recommend you to rev up the turntable, spin up the CD player, power up your iPod or click on that Spotify playlist and give Pink a proper listen once again. Even if you've played it a thousand thousand times, you might hear something new this time. We certainly did.
(And if you're looking for more Under the Pink love, head on over to After The Pink for a smorgasbord of photographs, artwork, and discussion inspired by and related to the album!)