News: Once Upon A Time...
Posted by woj on
Sunday, February 02, 2014
|
Cherries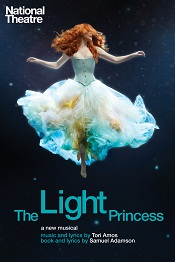 Once upon a time, rumors that Tori Amos was writing on a musical started to surface and, eventually, it was confirmed that she was working on The Light Princess for The National Theatre in London. And right now, several years later, the final performance of The Light Princess is taking place at The Lyttleton at The National's complex on the South Bank.
So, as this chapter in The Light Princess winds down, we just wanted to say thank you to Tori and Samuel Adamson for creating the musical! Thank you to the cast and creatives — Rosalie Craig, Nick Hendrix, Clive Lowe, Kane Oliver Parry, Amy Booth-Steel, Lisa Pitt-Pulford, Hal Fowler, Ben Thompson, Marianne Elliot, Rae Smith, Martin Lowe, Steven Hoggett, Toby Olié, Matthew Robins, and everyone else — for bringing their vision to life! Thank you all of the people working on musical who shared their days with us on Twitter, Facebook and other corners of the Internet! And thank you to all the fans — whether Tori fans, theatre fans or both — for supporting the musical and making it a success!
It's been a great ride seeing this work come to life and while we don't know what is in store for The Light Princess, we can't wait to see where it floats off to next!