News: Gimme Six. Gimme Five.
Posted by woj on
Sunday, February 16, 2014
|
Releases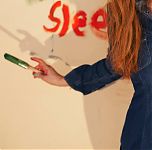 Friday afternoon, without any explanation, this image appeared on ToriAmos.com and all the social media avenues accompanied by the caption "6."
Needless to say, a collective WTF?!? echoed forth from the keyboards of Tori Amos fans around the world. What this a countdown? Was "Slee" a fragment of the name of the sixth track on Unrepentant Geraldines? Was this the record's cover artwork? A promotional photo? Is that a new wig? Water colors or oil paint? (Well, maybe not that last one.)
A little light was shed by Universal Music Classics on Facebook where they indicated that, "Piece by piece Tori Amos is revealing her album cover for her upcoming release Unrepentant Geraldines," and recommending that folks keep an eye out over the weekend. While they were the only source saying anything about what these image fragments were, they might know a thing or two as they're releasing the record, after all.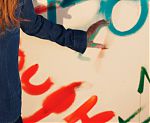 And sure enough, a second image, "5.," appeared today. So it appears that the reveal is on, folks, and we hope there will be more information about the record — and the rest of the elusive tour dates hopefully — come the middle of next week.
In related news, Amazon.com has added a listing for and is taking pre-ordered for Unrepentant Geraldines with a release date of Tuesday, May 13th. They are taking pre-orders for a CD edition of the album but MusicTAP, which first mentioned the May 13th release date on Thursday, indicates that the album have three physical editions: compact disc, vinyl, and a deluxe CD/DVD combo. Perhaps by this time next week, we'll know more about the contents of each…
Update: Amazon.com has added listings for the deluxe and vinyl editions of Unrepentant Geraldines but neither are available for pre-orders at this point.
Thanks Tanya for the tip to MusicTAP and to Mark as well!