News: A Rolling Geraldine Gathers No Paint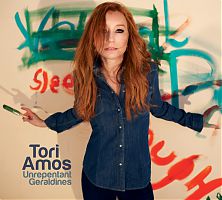 I've always been inspired by visual artists of all mediums because, as with music, art is not a job you can go to and leave from, but it is something that defines who and what you are. Visual artists shake up our brains and force us to look at everything, from objects we don't normally think twice about to people we might not have cared about. In one image, they can remind us of nature's power to enchant, as well as humankind's fruitless attempt to overpower her or simply second-guess her. Through the visual artist's application of tone, shape, pattern and pigment, I not only begin to see, but I can honestly say I begin to hear.
Rolling Stone's report about yesterday's unveiling of the cover for Unrepentant Geraldines includes dates for the North American leg of the 2014 tour and confirmation of the album's release on May 13th, as Amazon indicated when they added a listing for the record to the store. The article also mentions that the European leg "culminates" in Bucharest, Romania on June 19th.
The North American dates are listed below. We'll get them All dates have been added to our tour section! as soon as we can!
Thanks to MAT and ToriAmosJP for the tip!
7/16 – Vancouver, BC – Orpheum
7/17 – Seattle, WA – Paramount Theatre
7/18 – Portland, OR – Oregon Zoo Amphitheatre
7/21 – Oakland, CA – Paramount Theatre
7/23 – Los Angeles, CA – Greek Theatre
7/24 – San Diego, CA – Humphrey's
7/25 – Mesa, AZ – Mesa Arts Center
7/27 – Denver, CO – Paramount Theatre
7/29 – Dallas, TX – Winspear Opera House
7/30 – Austin, TX – Long Center
8/1 – St. Louis, MO – Peabody Opera House
8/2 – Kansas City, MO – Midland Theatre
8/3 – St. Paul, MN – O'Shaughnessy Auditorium
8/5 – Chicago, IL – Chicago Theatre
8/6 – Detroit, MI – Fox Theatre
8/7 – Cleveland, OH – Cain Park
8/8 – Toronto, ON – Massey Hall
8/10 – Philadelphia, PA – Verizon Hall
8/12 – New York, NY – Beacon Theatre
8/13 – New York, NY – Beacon Theatre
8/15 – Boston, MA – Opera House
8/16 – Washington, DC – DAR Constitution Hall
8/18 – Nashville, TN – Ryman Auditorium
8/19 – Atlanta, GA – Cobb-Energy PAC
8/20 – Durham, NC – Durham PAC
8/22 – Clearwater, FL – Ruth Eckerd Hall
8/23 – Orlando, FL – Bob Carr PAC
8/24 – Miami, FL – Fillmore at The Jackie Gleason Theatre