News: Unrepentent Geraldines Adds A South African Leg
Posted by woj on
Tuesday, March 11, 2014
|
Touring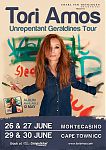 Rumors that Tori would return to South Africa on the Unrepentent Geraldines tour had been swirling around for the past several weeks and it now appears they are are true as Computicket.com has added listings and is selling tickets for four shows there: two nights in Johannesberg on June 26th and 27th and two nights in Cape Town on June 29th and 30th.
These shows are not yet listed on ToriAmos.com. However, given the sales of tickets and the fact the these shows are being presented by the same organization that brought her to South Africa for the first time in 2011, one would think it's as good as confirmed.
Update: Shows have been officially confirmed via Tumblr and Twitter.