News: The Light Princess Recognized At The Oliviers
Posted by woj on
Thursday, March 27, 2014
|
Cherries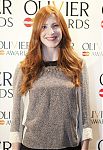 Belated congratulations to the cast and creatives from The Light Princess who were nominated for 2014 Olivier Awards!
The musiical was recognized in four categories: Paule Constable for Best Lighting Design, Rae Smith for Best Costume Design, Simon Baker for Best Sound Design, and Rosalie Craig for Best Actress in a Musical.
The Oliviers, if you are not familiar with them, are presented by the Society of London Theatre to London stage productions and are recognized as the highest honor granted to British theatre. The Oliviers close out the British theatre award season opened by The London Evening Standard Theatre Awards, with The WhatsOnStage Awards bridging the gap between them.
This year's awards will be presented during at a gala event at the the Royal Opera House on Sunday, April 13th. The public are invited to the Covent Garden Piazza to enjoy a live stream of the ceremony presented by ITV as well as additional live music and entertainment or, for those not within reach of London, to follow along on olivierawards.com and Twitter to keep abreast the evening's proceedings. Highlights of the awards will also be broadcast on ITV shortly after the ceremony concludes.