News: Trouble's Lament Is Coming!
Posted by woj on
Thursday, March 27, 2014
|
Releases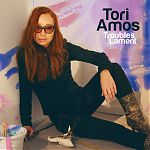 Over on the official Facebook page, a little message from Tori has been posted announcing that "Trouble's Lament," the first song from Unrepentant Geraldines, will be made available tomorrow, Friday, March 28th. The post also includes this photo so we're guessing digital single of some sort or another…but we shall see!
Update: If you are in Australia, "Trouble's Lament" is already here on iTunes for purchase as a digital download. There's a 30 second preview clip on the web that anyone should be able to listen to, as well as a minute and a half clip in iTunes itself if you access it there. Or maybe not…
Additionally, the track listing for the album was announced — coincidentally, not too long after it appeared on Barnes & Noble's listing for the standard edition of the record. Check it out below!
America
Trouble's Lament
Wild Way
Wedding Day
Weatherman
16 Shades of Blue
Maids of Elfen-mere
Promise
Giant's Rolling Pin
Selkie
Unrepentant Geraldines
Oysters
Rose Dover
Invisible Boy