News: If It Is Tuesday, This Must Be Paris
Posted by woj on
Tuesday, April 22, 2014
|
TV/Radio/Web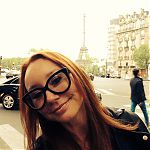 As one can tell from the picture Tori posted yesterday on Instagram, etc., she's in Paris promoting the album. She swung by the studios of France Inter today for a solo piano performance of "Trouble's Lament" and a wee interview on On va tour y passer with André Manoukian.
You can stream the program from their website andt he show is also available as a podcast via iTunes and RSS. (Here's a direct link to today's show). Tori's segment start during the 44th minute.
Update: Or just listen to it here:
Also, as Clément and Tori Amos France informed us, Tori will be on C à vous on France 5 tonight! That television program starts at 1900h.
Update: Video of the appearance on C à vous should be available on Wednesday, courtesy of the program.
Merci beaucoup to Clément and Marie for the help!