News: Listen: Soundcheck Session (April 28, 2014)
Posted by woj on
Tuesday, April 29, 2014
|
TV/Radio/Web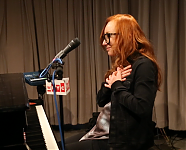 Audio of Tori's live in-studio performance for WNYC's Soundcheck is now available to stream and download. They've promised video as well though that has yet to be shared. Not-so-curiously, the original webcast used "Giant's Rolling Pin" as the bed music for the introduction, but that was replaced by "Winter" and a re-recorded intro for the archived recording — hope you got to hear the limited edition deluxe release!
The half-hour session includes three live performances — "Trouble's Lament," "Selkie," and "Crucify" — as well as an interesting discussion with host John Schaefer about the new album, the songs she played, and her relationship to the songs she's written.
The Light Princess also came up during their conversation and Tori confirmed that the orchestral pieces are complete and the vocals pieces will be worked as schedules allow, with the recording being released next year. She also gave hope to the possibility that the production would be brought to the United States someday though that sounded still quite a ways off and far from a forgone result, though we certainly hope it pans out!
Update: The video has been added: