News: Cork: The Unrepentant Geraldines Tour Kicks Off
Posted by woj on
Tuesday, May 06, 2014
|
Touring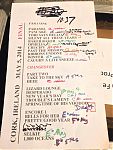 The first night of the Unrepentant Geraldines Tour is in the books. After posting a picture of herself at the Cork Opera House, Tori took the stage and powered through a set that included two songs from the new album, "Trouble's Lament" and "Selkie," several hits like "Silent All These Years," "Caught A Lite Sneeze," "Winter," and "Crucify," covers of The Eagles' "Desperado" and U2's "New Year's Day," and a couple curve balls to keep people on their toes: "In The Springtime of His Voodoo" and "iieee." On the Hammond B3 organ. Yup.
With many thanks to @SchizoEclectic for updating Toriphiles round the globe on Twitter in real-time, the complete setlist has been posted in the Tour section.
By all accounts, the performance was top-notch but we'd love to hear your thoughts on the concert if you were there. If you are so inclined, post a review using the comment form at the bottom of the show's Flashback page. Photos and video clips are also very welcome!
P.S. You're welcome for not making a cork pun!