News: Listen to Unrepentant Geraldines on Amazon!
Posted by woj on
Thursday, May 08, 2014
|
Releases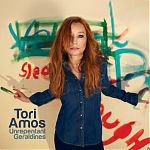 Amazon added the digital version of Unrepentant Geraldines to their catalog at the end of last week but as of today, you can listen to the whole record — including "Dixie," a bonus track exclusive to Amazon's MP3 Store — until May 12th, the day before the album is released in North America! There are no controls for the stream so it can only be listened to straight through can't listen to single songs but if you want to get a taste of what the new record is like, this is a great way to do so — and make sure to catch "Dixie" at the end!