News: Extreme Sounds In Manchester
Posted by woj on
Monday, May 12, 2014
|
Touring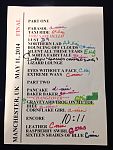 Whether you support City, United, another club or don't give a toss about football, everyone at the Apollo in Manchester walked away a champion after an epic set this evening.
Continuing to shy away from new album which is not yet officially released in much of the world until Monday or Tuesday, tonight's set featured a trio from Scarlet's Walk, "A Sorta Fairytale," "Taxi Ride," and "Pancake," classic chestnuts like "Cornflake Girl" and "Leather," Billy Idol's "Eyes Without a Face," Moby's "Extreme Ways," and, to top it off, the first-ever solo performance of "Raspberry Swirl." The only song from Unrepentant Geraldines performed was "16 Shades of Blue" which closed out the evening.
The complete setlist, thanks to the mighty efforts of tonight's tweeters @RoppleRob and @icingboy, has been posted in the Tour section where you will already find several videos to tingle your earballs. (Who doesn't like living in the future? Not us!)
Needless to say (but we're going to say it anyway), we'd love to hear what those in attendance thought of the show. Drop us and the world a review using that there comment form at the bottom of the show's page. If you have any video or photographs to share, please let us know and we'll get them added to the site as well.