News: From Here To Birmingham
Posted by woj on
Tuesday, May 13, 2014
|
Touring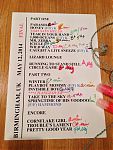 It's practically sunrise in Birmingham as we write this so perhaps it's a bit late for a concert recap but it would be remiss not to summarize the concert in Brum last night.
On the day Unrepentant Geraldines was released in the UK, Tori took the stage at the Symphony Hall and, following the pattern of the previous shows on the tour so far, played a set spanning width and breadth of her oeuvre. The show included the first performance of "Invisible Boy" as well as two other songs from the new record: "Trouble's Lament" and "Wild Way." She also dipped into the back catalog with old favorites like "Winter," "Tear In Your Hand," "Cornflake Girl," "Playboy Mommy," and "Pretty Good Year." The covers played during the Lizard Lounge were Joni Mitchell's "Circle Game" and U2's "Running To Stand Still."
Despite the lack of cellular service, @rougeforever valiantly updated us with the songs played in real-time and the complete setlist has been posted in the Tour section. Reviews are welcome! If you were there and would like to share your thoughts on the performance, please do so using the comment form there. Photos and video links are welcome too.