News: Unrepentant Chart Action!
Posted by woj on
Thursday, May 22, 2014
|
Releases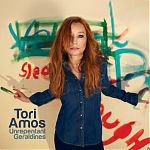 Unrepentant Geraldines has been out on the world for over a week now and the first weekly charts in which it has placed have been been released over the past few days.
We were pretty excited to hear the news that the album debuted in the Top 10 of the Billboard 200 album chart at #7 with over 20,000 copies sold during its first week. That's the highest debut for any of her albums since American Doll Posse in 2007 which also debuted at #7 on the US album chart. In the United Kingdom, the record flirted with the top ten on the mid-week charts but landed on the final weekly chart for its first week of availability to debut at #13. Elsewhere, it placed #10 in the Netherlands, #15 in Germany, #17 in Austria, #20 in Switzerland, #40 in Finland, and #154 in Belgium.
Congratulations to Tori and her team for the success of the new record and let's hope that the record continues to hang around the top of the charts for the next few weeks and as the tour continues through the summer!